Combining "Data printing" and "Communication"—leave it all to us!
Let Kawase be your one point of contact for orders!
You can also depend on us for reliable, accurate, and speedy large volume printing.
Until now…
Companies needed to spend time and effort dealing with each individual service provider, incurring costs as well, with data handled by a management company, printing by a printing company, and shipping by a shipping company.
By leaving it all up to Kawase:
We back you up with one-stop support for the entire sequence related to data processing and printed materials, from data entry, to high speed printing, to enclosing and mailing. Our customers are released from the extra work, allowing them to focus on their core competence.
Data processing combined with high speed data printing

We provide solutions to answer our customers' outsourcing needs.
Kawase puts to work the skills it developed in its business-form printing enterprise: high speed printing technology, and data processing know-how for converting a massive amount of data into messages. We give life to important message tools through the optimal output of beautifully designed forms with easy to read data.
■The data printing process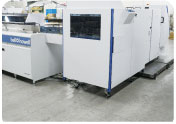 Data Processing Service: Conversion, sorting by name, and calculation of data.
Data Entry Service: Substitution of a data entry process.
Data Output Service: simultaneous data outputting of forms and variable data using a super high-speed inkjet printer.
Data Fabrication Service: Data conversion and support for customer bar code printing.
Mailing Service: Handling from enclosing, sealing, and sorting, to posting.
■Super high-speed printing system
Kawase has developed a unique super high-speed data printing system. When counted in A4 paper sheets, our inkjet printers achieve high-speed printing of 60,000 sheets per hour. In addition, use of roll paper feeding enables the printer to print both sides with high fault tolerance, enabling efficient high-speed print out.