Processing data in the cloud, combined with communication, we can make it easy, eco-friendly, and at even lower cost.
We have moved billing issuance tasks to the cloud.
That results in a smart EBS which you "use" instead of "owning".
What is EBS?
EBS is a service that greatly reduces the customer's business burden related to billing, as well as the costs of postal mailing. EBS stands for "Eco Billing Service", Kawase's cloud based billing issuance service. It is a new business support service that realizes eco-friendliness and cost reduction by replacing ledgers with electronic data.
How does one actually use it?
Billing data is generated automatically when you upload data for the bill to the special web site. An email is sent to the bill recipient at the time you specify. The user can then access the special web site to download with a user ID and password. No capital investment or maintenance is required on your part. Further, we can provide a hybrid service in which the bill is printed and mailed as normal.
■Commonly heard complaints regarding billing
Complaint 1: it takes too much time and costs too much money for mailing…
Complaint 2: managing equipment such as printers is a burden…
Complaint 3: storing and managing copy of bill is difficult…
Reduce waste and gain reliability and assurance with Kawase's EBS cloud-based billing issuance service! 
Your complaints will all be solved!
■Easy operation following the bill management procedure on your PC screen
●Data for the bill is uploaded to the EBS server.

●Bill data is generated automatically, and email is sent to the client.

●The client accesses the site with their browser, and logs in using the user ID and password.

●Bill data can be downloaded at any time.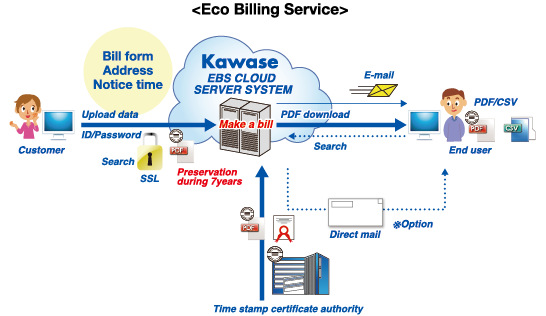 ■EBS features
| | | | | | | |
| --- | --- | --- | --- | --- | --- | --- |
| | | | | | | |
| Reduces postal fees normally incurred when mailing bills. | Data for the past seven years is viewable, as required by the National Tax Collection Law. | Clients can download their bills without delay. | No space is required for storing paper bills. | Bill authenticity is maintained through timestamp authentication in the PDF file. | Documents are stored electronically, reducing internal risks during emergencies, such as BCP. | The system handles both paper output and the downloading of data. |
■The system is easy because it is cloud-based.
There is no need for in-house server equipment or the installation of special software. This is a cloud-based service that you access with a web browser.
■Useful for many purposes
This system can be used for numerous types of notices in addition to bills, such as orders, delivery invoices, payment fee notifications, and salary statements.
Moving beyond data printing
We hope you try Kawase's new business support service.